A lab for advanced CFD and CAA
The wide range research activity and industrial applications in coumputational fluid dynamics and aeroacoustics field.
  We have:
Highly professional staff
Powerful computing resources
Reliable and efficient inhouse codes
Numerous international and russian partners
 
  We develop:
High-order numerical schemes
Parallel solvers for supercomputers
New computational approaches
 
  We offer:
Specific aeroacoustic modeling
General-purpose CFD simulations
Advanced research
 
The works on computational aeroacoustics (CAA) started at IMM in 1990th. In 2002 the CAA Laboratory was officially formed. Currently, the Laboratory consists of nine researchers, eight of them have Ph.D. degree. Besides the permanent staff, the team includes several under-graduated and post-graduated students and cooperates with a number of experts from external institutions.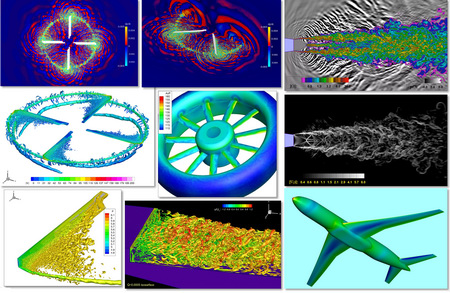 News:
02.12.2015 Proceedings of the CFD Weekend-2015
Seminars:
20.01.2016 16:00 Операторный метод программирования для решения многомерных задач математической физики на примере разрывного метода Галёркина (Краснов Михаил, ИПМ им. М. В. Келдыша РАН)